Well, as class enters it's final weeks I am, as I have already stated, very sad to see it go. Today's class was a good one. I wasn't too sad about not doing our opening exercises (I feel like mush after the break) and I must say I thoroughly enjoyed the bar music today, is that something new? I believe I heard the I dream of Jeanie theme song as well as a Beatles song (or some sort of familiar tunes)? I think the dance went quite well today as well. I can't believe we're actually finished with the choreography! I have to say I was ecstatic when you chose me to do partnering. At my old studio, we literally had one guy (my teacher's son who was forced to dance) and the only person who ever got to partner with him was his own sister (not only because she was my teacher's daughter, but because she must have weighed 70 pounds.) At any rate, partnering is one of those things I never got to experience at my studio and really never expected to experience anywhere else. It's a dream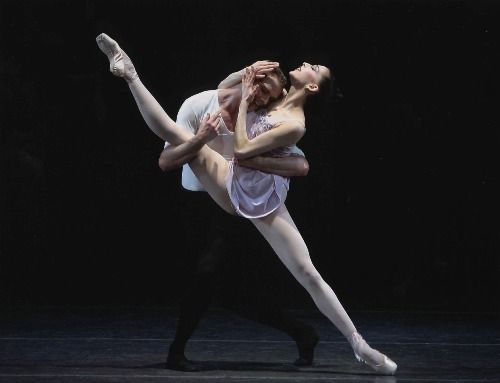 come true to get to do it for even a second!
Partnering is where I find the real drama of ballet lives. It's romantic and emotionally driven, and honestly very difficult!
(look at that photo above, that's hot!)
Having to coordinate so closely and trust the that the guy you're working with isn't going to drop you is not an easy thing to do. It forces you to be aware not only of what your own body is feeling and doing, but also where your partner's body is and what they need from you.
I also think it's great to see the contrast between female and male dancers. It's fascinating to watching how they work differently, technique and moves are cohesive yet opposite, and the difference in their bodies is striking as well, but they move so cohesively and show each other off.
I have been quite impressed with the number and ability of the guys in the class. It's nice to be dancing with more than just girls!
I also look forward to watching the other classes at the performance. I'm not sure if I will have room again to take another ballet class, but it'll be interesting to see how the levels progress and what other forms of dance are available.
I'd really like to do tap again, but I heard there isn't actually a tap class offered?
(Though I did hear recently that there is now a tap group.)